Sigma Delta Pi's production of El delantal blanco.
February 20, 2012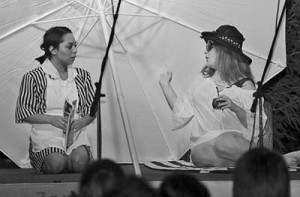 This one-act play written by Sergio Vodanović revolves around the poignant interaction between two women of opposite social status: an aristocrat and her maid. What happens to the identities of these ladies when they exchange clothes? The answer sparks intriguing ideas regarding the true nature of social stratification.
Performances were held Friday, April 13th, at 7:00 pm and Sunday April 15th at 4:00 pm.