Internship Spotlight: John Kusmec, Senior Business Administration Major (Finance Concentration), Statistical Methods and Economics Minors
November 19, 2018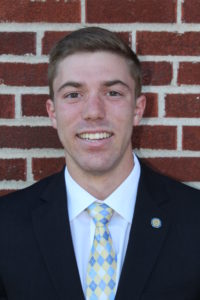 During the summer, John Kusmec completed a 10-week Financial Advisor Career Development internship with Edward Jones in Harrisonville, Mo. 
I was placed in a branch in Harrisonville, Mo., with Lori Watson, a Level 5 Financial Advisor; Marci Bauml, a Senior Business Office Administrator (BOA); and Tara Sisk, an on-call BOA. The 10-week program afforded me the opportunity to learn more about Edward Jones's company culture and the duties of a financial advisor. Every week I participated in webinars with the Home Office and all other interns to discuss different aspects of the financial advisor position.
In the office, I observed client meetings and phone calls to learn how Lori interacts with her clients and works with them to meet their goals. I went with her to several networking groups and community organization meetings such as Rotary and the Chamber of Commerce. I also filled in as the BOA whenever Marci or Tara was gone.
Over the summer, I had several large projects to carry out. I went to more than 350 households to conduct surveys for my Community Evaluation Project. I gathered basic information on people and their thoughts on Harrisonville to get a better sense of the needs of the community. I also worked with four other local businesses to organize a joint seminar about estate planning. This involved creating invitations, contacting clients, gathering handouts for the presentations, and presiding over the evening. In total, we had 30 guests show up and generated three referrals for some of the businesses we worked with.
My third project was a CD marketing campaign. I ran a query search in our client database to target people who would benefit from adding CD's to their portfolio. I then sent out postcards informing clients of our current rates and followed up with them over the phone a week later. From this campaign, we opened six new accounts and generated $1.2 million in new assets for the branch.