Delta Sigma Pi Wins Awards
August 23, 2017
Delta Sigma Pi held its 51st Grand Chapter Congress in New Orleans, August 16-20, 2017. Eleven students from the Truman State Iota Nu chapter and their Chapter Advisor, Dr. Debi Cartwright, attended the event. The Chapter won the following awards for their activities during the 2016-2017 academic year:
Regional Awards:
Gateway Region R. Nelson Mitchell Outstanding Chapter
Gateway Region Outstanding Financial Operations
Gateway Region Outstanding Service
Gateway Region Outstanding Scholastic Development
Gateway Region Outstanding Alumni Relations
Gateway Region Chapter Advisor of the Year
Provincial Awards:
South Central Province Outstanding Scholastic Development
South Central Province Outstanding Alumni Relations
South Central Province Chapter Advisor of the Year
National Award: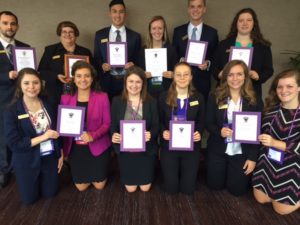 Pictured are: Brad Hobson, Chapter Advisor Dr. Debi Cartwright, Winston Chien, Amber Smith, Zack Estep, Megan Zindel, Rachel Hanson, Valerie Schmidt, Rachel Echternacht, Veronica Cheney, Claire Vasilis, and JoAnna Hill.