Homemade Laundry Soap
February 19, 2015
When the sustainability LLC was first introduced, we wanted to make sure we didn't focus solely on the environment aspect, which is what most people tend to lean towards. We wanted to make sure that all branches of the sustainable lifestyle were being explored such as ecological, economical, cultural, and political sustainability. In BNB's quest to promote more sustainable lifestyles, we decided that it would be a good idea to put on an event where we have our residents make their own laundry detergent. I know what you're thinking: "But Tommy, how does custom laundry detergent imply a sustainable lifestyle? Are you using "all natural" ingredients?" Well the quick answer to that would be no we are not using "all natural ingredients". In fact, we used mostly name brand materials (see end of post for ingredients). The idea behind this event was to show our residents that with a little bit of time and effort, you can save money in the long run by making your own laundry detergent. With the recipe we used, we calculated that if one load of laundry was done per day, then the average cost of laundry detergent per load was 5 cents.  If you look at other brands of detergent (names which I probably can't say for some sort of copyright law which no one knows about) you can see that our laundry detergent is financially the better option.
Making the detergent was relatively simple.  The first step is always the hardest, but even that wasn't too bad: First we had to take a cheese grater to a large bar of Zote Soap to get it broken down into fine shavings. We had three cheese graters to work with, so we just cut the soap into three smaller pieces and the residents went to town until there was nothing left. It really only took us about 10 minutes to grate everything. After that we just mixed all of the remaining ingredients together in no particular order. This recipe makes a LOT of detergent, so we needed three buckets to make sure we wouldn't overflow and make a mess. After we had everything well mixed together we scooped our newly crafted detergent into ziplock bags. Every resident who attended took home a bag of their own detergent which I imagine is good for about 10-15 loads of laundry. 15 free loads of laundry for about 1 hour of work seems like a pretty good deal if you ask me.
After everyone took a bag of detergent, we still had a lot left over. We thought it would be a good idea if everyone could try out our BNB sustainable laundry detergent, and it would be a good advertisement for the sustainability LLC, so we filled up empty detergent bottles and put one in each laundry room with a set of instructions. If you see our Sustainable detergent in the laundry rooms feel free to use it!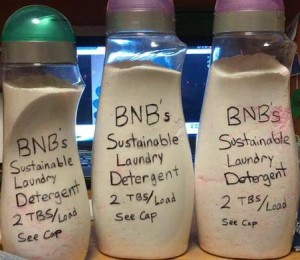 Ingredients:
1 (4 lb 12 oz) Box of Borax
1 (3 lb 7 oz) Box of Arm & Hammer Super Washing Soda
1 (3 lb) Container of OxyClean
2 (14.1 oz) Bars of Zote Soap
1 (4 lb) Box of Arm & Hammer Baking Soda
1-2 (55 oz) Bottle of Purex Crystals Fabric Softener– Optional