We have two fabulous exhibitions opening on Tuesday, October 18. A public reception will be held 5-6 p.m.
Fact or Fiction, which is installed in the main gallery, presents contemporary artworks by three St. Louis-based artists, Brandon Anschultz, Michael Behle, and Greg Edmondson. Each experiments with the formal elements of their artworks to test the ambiguous boundaries between the illusionistic representations of reality and the abstract materiality of artistic media. In other words, their works inhabit the space between fact and fiction. The exhibition includes an exciting spectrum of media including: drawing, painting, sculpture, video, and new uses of traditional materials.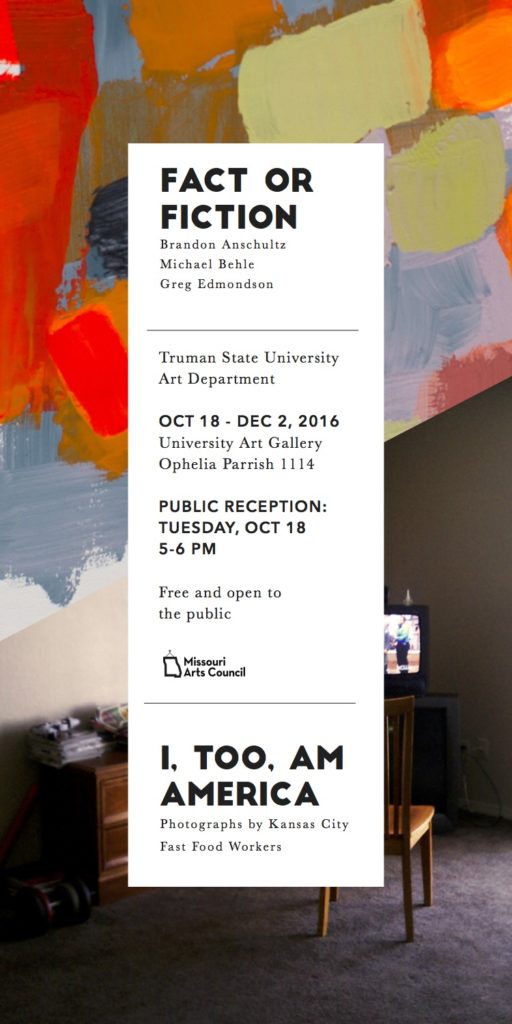 I, too, am America, a collection of photographs taken by fast food workers in the Kansas City Area, is in the side gallery. Originally shown last May in Kansas City, this exhibition received national media attention for capturing the everyday occurrences, the working conditions, and the common struggles of urban low-income workers as captured from their own perspective. The photographs explore major issues that our contemporary society faces including income inequality, race and gender discrimination, workers' rights, and the working poor.