Farm to Table Internships for Summer 2016
April 15, 2016
Two paid internships with the Farm to Table Program at the University Farm during summer 2016 are now available. The interns will focus on producing vegetables for campus dining services, a campus farmer's market, and a new Community Supported Agriculture (CSA) service.  Interested students from any major are encouraged to apply.  Applications are due April 22 via email to mseipel@truman.edu.  Full description can be found below.
Farm to Table Program Internship
University Farm at Truman State University
Internship Funding is provided by the Truman State University Environmental Sustainability Fee
Position: Vegeta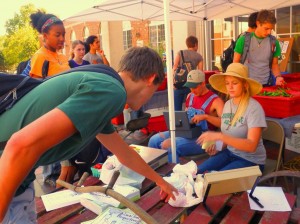 ble crop production student internship at the Truman State University Farm in Kirksville, Missouri. The position will average 30hrs/wk over 10 weeks within the approximate 3 month span of May 16, 2016 to August 19, 2016.
Responsibilities: The interns will work with the University Farm Manager and the Local Foods Coordinator to produce and prepare for consumption and/or storage, fresh fruits and vegetables at the University Farm.  The interns may also have an opportunity to work on other area farms and assist in collection and initial processing of produce from these farms for delivery.
Specific responsibilities/duties will include participation in:
Soil preparation, planting, and transplanting; weeding/watering
Harvesting; storing/processing
Produce market development including campus farmer's market
Assisting with development and implementation of a CSA
Delivering to campus dining and other Kirksville destinations
Supervising student volunteers and participants from other visiting organizations
Qualifications:
Required
Current student at Truman State University (all majors eligible);
Demonstrated knowledge of and/or interest in fruit and vegetable production;
Interest in and commitment to sustainable agriculture and community food system concepts;
Exceptional communication and interpersonal skills; and
The ability to engage in physically-demanding, outdoor work for eight or more hours per day and lift at least 50 lbs.
Preferred
At least two years of completed college coursework;
Direct experience in fruit and vegetable production and/or food processing;
Ability to remain engaged in University/community farm to table efforts beyond the internship position; and
Reliable transportation.
Compensation: The interns will be paid $7.65 per hour for a total of 300 hours.  The internship may be coupled with academic credit if the intern so chooses (5 credit hours as AGSC 391/392 or equivalent internship credit in the intern's discipline of choice).   Two paid internship positions are available.
Application: To apply, please submit via email attachment, a cover letter describing interest in and qualifications for the position, a resume, and names and contact information of two references, to
Michael Seipel, Chair of Agricultural Science
(Magruder Hall 3082, Truman St. University, Kirksville, MO 63501)
Applications will be accepted until April 22, 2016.
Truman State University is an affirmative action/equal employment opportunity employer.