That's All Yolks!
April 12, 2015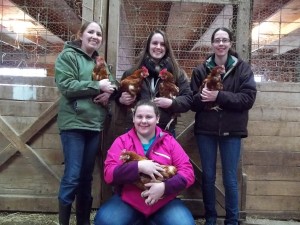 This week, I announce our last practicum group, That's All Yolks! So, without further ado, about their project:
Rachel Craig, April Johnson, Jenna Monnig, and Carley Rettke make up the group and have spent the past year raising up hens and selling their eggs. With a flock of 24 Hyline Browns, a cross between Rhode Island Reds and White Leghorns, and endless egg deliveries to meet, the Rachel, April, Jenna, and Carley have had quite a busy senior year. The group came upon the idea for eggs sales as they searched for something that would be hands-on, let them interact with customers, yet not be too time consuming during their senior year. With Rachel being the only on with experience raising chickens, an egg business seemed like a great learning opportunity and the perfect time commitment. Therefore, the four girls set out with the goal to provide quality fresh local eggs to customers they could develop relationships with over the course of the semester.
Sounds easy right? Well, as we have seen with all the practicum groups, life does bring lemons and you have to figure out how to make lemonade. For That's All Yolks, once the business got going, it really took off. Immediately, it became challenging to keep up with the unexpected demand. Eventually, however, the group figured out a system to balance all the pre-orders that were coming in as well as make deliveries. Overall, it has been a fun semester for the group, well except for maybe Jenna who the birds don't seem to like and attack her boots and hands! For everyone else, the hens are very sweet calm and are inquisitive about boots and the buckets in their stalls. That's All Yolks also got to help out the Ag Department by redesigning our recruiting board and the Adair County Humane Society by making rope dog toys.
The group has some really cool information about egg processing as well as their project up on their blog at www.thatsallyolks.wordpress.com and on Facebook at www.facebook.com/ThatsAllYolks