Sisters Grimm Sigma Alpha Style
October 30, 2013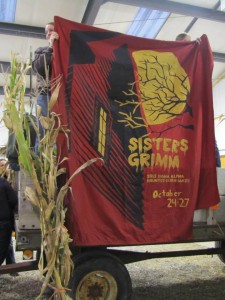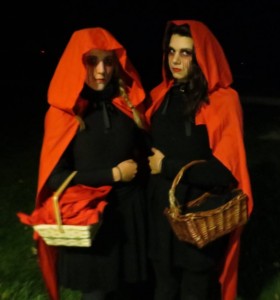 This past weekend the ladies of Sigma Alpha kicked of the Halloween festivities with their annual Haunted Corn Maze. The theme of this year's maze was Sisters Grimm, a spin off book series of the classic Brothers Grimm Fairy Tales. Thursday night, the ladies bundled up against the promise of chilly temperatures and ventured out not only into a field of corn, but a horrendous world of haunted fairy tales. Red Riding Hood, Rumpelstiltskin, and Rapunzel were just a few of the fairy tales Sigma Alpha selected to bring to life in their little patch of literature. Even with the cold weather and the Cardinals playing in the World Series, the ladies still managed to have a very successful fundraiser while at the same time drawing both Truman students and faculty as well as other Kirksville residents to the University Farm. While Thursday, Friday and Saturday nights were designed for those in search of a good scare, Sunday the maze was cleared of its gloomy decor to invite children in to enjoy Kid's Day at the maze. Each scene was converted from a fairy tale gone wrong to a fun activity with games and prizes. To keep in context with the original them, Sigma Alpha members shed their fake blood and bruises to dress up as some of the most classic children's fairy tale characters. Sigma Alpha would like to thank everyone who came out this year to show their support and they hope to see everyone again next year.
Above: Senior Megan LaFollette (St. Louis, Mo) and her little, Sophomore Kristi Van Oost (Elgin, Il) dressed up as Little Red, wandering around the maze in search of their grandmother and hiding from the Big Bad Wolf. Megan has also been a storyteller for the maze since she joined Sigma Alpha her freshman year.
Below: Senior Samantha James (Carl Junction, Mo) dressed up as everyone's favorite ogre, Shrek, for Kid's Day at the maze.