Options When You Visit
September 27, 2014
This post adapted from a previous blog post The (Bull)dog Days of Summer by Valerie.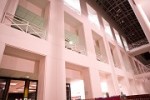 There are many things you can do during a fall or spring visit! And we hope that you will take the time to come and visit us. There is no better way to imagine yourself as a Bulldog than to be on the Quad while students are going to their next class. Or maybe you want to see how awesome the library is in person.
During the school year you can…
Every personal visit will include a meeting with an experience Admission Counselor and a tour of campus with a current student. This will provide you the opportunity to learn about Truman, ask your important questions and hear what is going on around campus. Check out our Tips for the Best Visit for some great visit ideas.
You will also have the opportunity to:
Whether you're just starting your college search, or are ending your "college visit tour" by looking at Truman, coming during the school year will give you a better idea of what the vibe of campus is really like – Truman is much different when the campus is bustling with students! My recommendation? Simply come for a personalized visit or on a Showcase day to learn even more!
There's lots to love about Truman and visiting more than once will let you pursue all your options!