Not a Deadline, but You Want to Apply
November 24, 2014
December 1st is quickly approaching. That magical date when so many colleges and universities require that you apply for admission. Truman is not completely exempt from this, as we have a priority date of December 1st as well.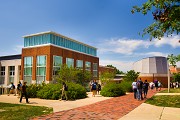 What's a Priority Date?
A priority date at Truman means that your complete application for admission receives automatic review for all types of scholarships at Truman: Automatic and Competitive. Yep. You've got it. Not only is our application free, you are considered for all merit-based scholarships that Truman may offer.
(Read our last post A Free Application? What's the Catch? here)
What else do you need?
Wouldn't it be wonderful if all you needed to do was submit an application? Truman admission isn't cut and dry, though. We know that you likely have more going on that just school work, and we like to get to know you. That's why we ask for the following things:
Essay – (1-3 pages that can be about anything.)
High School Transcripts
ACT or SAT scores
Activities List/Resume – strongly recommended
So hurry up! We don't need to have everything in by December 1 to make sure you get reviewed for scholarships, but you will want to get the other things headed to us quickly!
As always, let us know if you have any questions.
admissions@truman.edu
660-785-4114