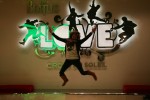 It is my last day of undergraduate classes, and quite possibly my last day of classes ever! (That is, unless I do decide to go to grad school later on)  Very exciting and scary at the same time.  The prospect of living back at home until I find a job is daunting, but having an excellent cook for a mother is making me feel better about the whole thing

My art show went up on Tuesday, and my family arrived on the Sunday before that.  It was so wonderful having my family around, and they loved my art.  The last time they were here was when they were dropping me off at West Campus Suites my freshman year, so it was nice to show them around Kirksville now that I know the town a lot better.  I took them to the museum at the first school of Osteopathic Medicine at A.T. Still University, Rosie's cafe (best pancakes in Kirksville if you ask me), Pickler's Famous, and all around campus.  I liked taking them around the town because it reminded me of all the nice things Kirksville has to offer and that I know I will miss when I leave here in just over a week.  I can't believe that's all the time I have left here!

My past four years at Truman have been an insane journey, but I would not have had it any other way.  Coming from Southern California, I thought I had made the biggest mistake of my life after that first winter hit, but it ended up being the best decision I could have made.  I am proud of the person I have become here and I am honored to have been able to work with and become friends with some really extraordinary professors and students.
All I can say is….. Thanks Truman.  I'll really miss you.
Sincerely,
Becky Hernandez 2011