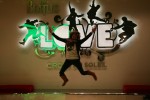 It snowed… AGAIN.  I don't know how much, but at one point I stepped into snow that went just below my knee… and I'm 5′ 10″.  I have decided that this is Kirksville's way of telling me I must play in the snow or else it will not allow Spring to arrive and continue to throw snow our way.  I've been so swamped lately that I still haven't found the time or energy to have a snow day

. SO! The fate of Kirksville's weather rests in my hands… I will make it my mission to play in the snow ASAP! I will not let you down Truman State!
Only a week and a half until spring break! I am so excited because 1) I will get 10 days of relaxation and NO HOMEWORK at my roommate's house in St. Louis and 2) I will be getting certified in Yoga Level 1 so I can teach classes at the Student Recreation Center next semester, if everything goes according to plan.  Yay for Yoga!